AAPCO Group Partners with Cooperative Christian Ministries on Bethel House Project
AAPCO Group recently completed the relocation and renovation of Bethel House in Concord, NC. >> ...read more

AAPCO Group Sr. VP Appointed NAA Committee Liason for NSC
Skip Huddleston, AAPCO Group's Sr. VP of Sales & Marketing, was recently appointed the Membership Committee Liason for the National Apartment Association's (NAA) National Suppliers Council (NSC). >> ...read more
AAPCO Replaces 3,000 s.f. of Concrete Sidewalks for Alexander Place
Alexander Place
Charlotte, North Carolina
304 units; 25 buildings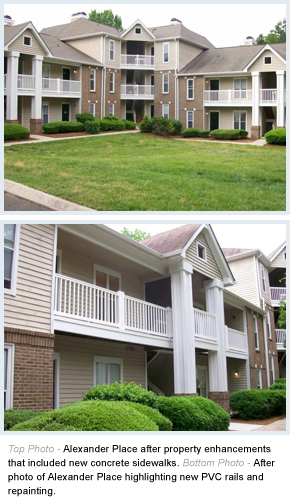 The damaged sidewalks had to go at Alexander Place in Charlotte, North Carolina. But that wasn't the only service AAPCO was able to roll into a very competitive bid. Also included in this project were several exterior renovations and property enhancements.
Asphalt / Concrete
Part of the Alexander Place project included the replacement of approximately 3,000 square feet of concrete sidewalks.
Railing Systems
AAPCO also enhanced the property with new PVC rails.
In addition to the above named services, AAPCO also performed repainting, extensive tree removal, carpentry repairs, brick repairs, and numerous amenity upgrades.