AAPCO Group Partners with Cooperative Christian Ministries on Bethel House Project
AAPCO Group recently completed the relocation and renovation of Bethel House in Concord, NC. >> ...read more

AAPCO Group Sr. VP Appointed NAA Committee Liason for NSC
Skip Huddleston, AAPCO Group's Sr. VP of Sales & Marketing, was recently appointed the Membership Committee Liason for the National Apartment Association's (NAA) National Suppliers Council (NSC). >> ...read more
Altimira Place gets A Rating with AAPCO Rehab
Altimira Place
Orlando, Florida
201 units; 18 buildings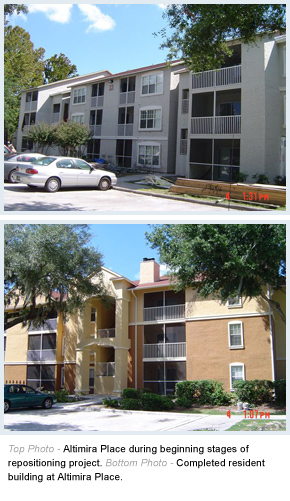 Altimira Place in a suburb of Orlando, Florida was looking to enhance the drive-by curb appeal and raise the property rating. But it was going to take extensive renovation to accomplish it.
Major Rehab / Repositioning
As a major repositioning project, Altimira Place underwent extensive renovations. Some of these services included: extensive gabled modifications at the breezeway entries, aluminum rails, new gutters, multiple EIFS and stucco trim elements at window openings, breezeway entries and band boards. Prior to performing a full repaint of the property, our carpenters also constructed additions to some of the buildings that added valuable storage space to select units.
In addition, AAPCO performed a complete interior / exterior renovation of the clubhouse / office. This included construction and installation of an ADA elevator, expansive front and rear exterior additions, decorative powder coated steel railings, extensive reconfiguration of the interior layout, as well as all mechanicals, fixtures and wall / floor coverings associated with the interior.
Exterior Painting
Also included in the extensive modifications was a full repaint of the property.
Replacement Windows / Doors
Part of the major repositioning included window and door replacement. Altimira Place received all new windows and new sliding doors at the balconies.
Roofing Replacement
Adding to the property's rating was the roofing replacement that was performed at Altimira Place.
Upon completion of this project the client was extremely pleased that all of their pre-project goals had been realized. The major repositioning services provided by AAPCO had secured the property as a long-term hold for the owner and greatly increased the property value. As you can see in the photos, the visual transformation of the property was incredible.