AAPCO Group Partners with Cooperative Christian Ministries on Bethel House Project
AAPCO Group recently completed the relocation and renovation of Bethel House in Concord, NC. >> ...read more

AAPCO Group Sr. VP Appointed NAA Committee Liason for NSC
Skip Huddleston, AAPCO Group's Sr. VP of Sales & Marketing, was recently appointed the Membership Committee Liason for the National Apartment Association's (NAA) National Suppliers Council (NSC). >> ...read more
AAPCO's Use of ColorPlus Technology Brings Property Out of the '80's and Into the 21st Century
Aspen Peak
Charlotte, North Carolina
384 units; 22 buildings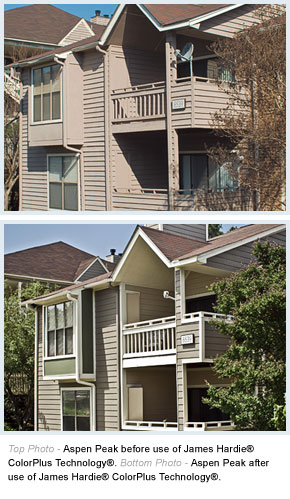 When the owners of Aspen Peak in Charlotte, NC wanted to update the look of their property they turned to AAPCO Group to get the job done right. Aspen Peak was constructed in the 1980's. In addition to extensive water intrusion issues, the deteriorating cedar siding gave the asset an extremely dated appearance. AAPCO's use of the James Hardie ColorPlus® Technology was the solution.
Siding Installation
The AAPCO team began by tearing off all of the existing siding and trim from the buildings. After inspection and replacement of any deteriorating framing and sheathing, all of the through-wall penetrations were re-flashed, all windows & sliding door flanges were taped and the buildings received installation of house wrap. All vents on the body of the buildings were replaced as well.
Installation of the ColorPlus® system followed. The design team assembled a color scheme from the multiple choices available in James Hardie Co.'s HardiePlank®, HardieTrim® and HardiePanel® selections. Use of these factory-finished components, along with AAPCO Group's designation as a certified installer, means the owner has a 15 year paint warranty on the James Hardie® products and confidence that the new appearance will continue to enhance curb appeal for years to come. The green, eco-conscious aspects of the system make it a win-win for the owner.
Exterior Painting
All areas of the buildings not receiving the ColorPlus® system were thoroughly inspected for rotten wood. After replacement of the deteriorated components, these areas were fully painted.
Carpentry Reconstruction
Select balconies, walkways and stairways were reconstructed during the course of the project utilizing pressure-treated materials.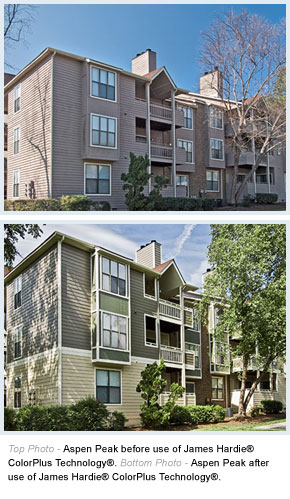 Amenity Upgrades
AAPCO built a wood-framed and stucco trash compactor enclosure. The balance of the enclosure received ColorPlus® components.
Miscellaneous
In addition to the items above, AAPCO installed a new lighting package throughout the property.