AAPCO Group Partners with Cooperative Christian Ministries on Bethel House Project
AAPCO Group recently completed the relocation and renovation of Bethel House in Concord, NC. >> ...read more

AAPCO Group Sr. VP Appointed NAA Committee Liason for NSC
Skip Huddleston, AAPCO Group's Sr. VP of Sales & Marketing, was recently appointed the Membership Committee Liason for the National Apartment Association's (NAA) National Suppliers Council (NSC). >> ...read more
AAPCO Gives Campus Place Apartment Reconditioning a Whole New Look
Stucco Reconditioning

Campus Place Apartments highlights Stucco Reconditioning services at AAPCO Group.

Fresno, California
232 units; 22 buildings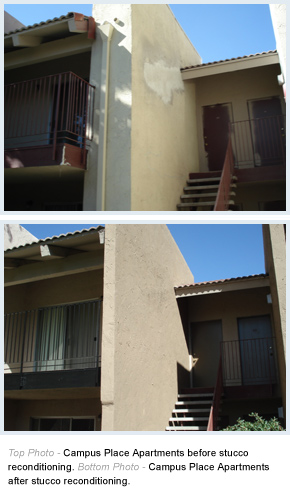 The property at Campus Place Apartments in Fresno, California had a dated design that was causing water intrusion at the apartment entries. AAPCO fixed the problem and gave the property a more contemporary look.
AAPCO's field associates removed the 4" x 6" beams that were set in the walls at the entries, cut back the balance of the beams, and installed a fascia detail. This eliminated the exposed beam design at the entryways. Then, our field associates installed new stucco where the beams were removed and duplicated the existing heavy stucco pattern perfectly.
Additional tasks performed on this project were extensive rotten wood replacement, door replacement, and a full repaint of the property. The results at Campus Place Apartments were outstanding-eliminating the water intrusion issue and achieving a cleaner, much more contemporary look for the buildings.