AAPCO Group Partners with Cooperative Christian Ministries on Bethel House Project
AAPCO Group recently completed the relocation and renovation of Bethel House in Concord, NC. >> ...read more

AAPCO Group Sr. VP Appointed NAA Committee Liason for NSC
Skip Huddleston, AAPCO Group's Sr. VP of Sales & Marketing, was recently appointed the Membership Committee Liason for the National Apartment Association's (NAA) National Suppliers Council (NSC). >> ...read more
AAPCO Group's services give Nashville area project look of brand new property
Lake D'ville
Hendersonville, TN
188 Units; 9 Buildings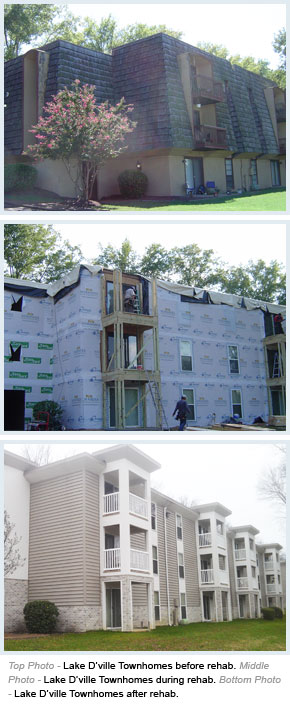 This Nashville area project represents the most visually transformative rehab project in the history of the AAPCO Group. The accompanying photos from this project demonstrate how this asset's final appearance truly gives the impression that our client took delivery of a "brand new property".
Carpentry Reconstruction
A large component of this project included full demolition of the existing balcony stacks as well as removal of the mansard-style fašade structures on the bodies of the buildings. New ground floor concrete patios were poured prior to the reconstruction of the balconies. The townhome building on the property received similarly constructed porches at the unit entry doors.
Siding Installation
After repairs to the sheathing & framing and installation of house wrap and flashings, the new structures and bodies of the buildings were clad with Nichiha brand cultured brick panels and fiber-cement panel & trim components. Vinyl siding was also used in select areas on the buildings.
Railing Systems
All of the new balconies received white PVC railing systems which provided a more timely appearance.
Window / Door Replacement
All existing aluminum windows and sliding doors were replaced with new vinyl, energy efficient windows and doors.
Roofing
The new balcony stacks and townhome unit entries received new TPO-style flat roofs that were tied-in to the existing flat roofs. Repairs on the existing flat roofs were also performed.
Exterior Painting
All of the new fiber-cement components, property amenities, the breezeway walls & ceilings and unit entry doors were repainted.
Lighting / Electrical
New light fixtures and outlets were installed at all balcony/patios and townhome entries.
AAPCO Group is extremely proud of this project. With so many different components, the AAPCO team was allowed to shine in a multitude of service areas. Occupancy and cash flow were greatly enhanced by the improvements. The end result was "a brand new property," happy residents and a very satisfied owner.