AAPCO Group Partners with Cooperative Christian Ministries on Bethel House Project
AAPCO Group recently completed the relocation and renovation of Bethel House in Concord, NC. >> ...read more

AAPCO Group Sr. VP Appointed NAA Committee Liason for NSC
Skip Huddleston, AAPCO Group's Sr. VP of Sales & Marketing, was recently appointed the Membership Committee Liason for the National Apartment Association's (NAA) National Suppliers Council (NSC). >> ...read more
James Hardie® Products Take Center Stage on
Retirement Community Project
Still Hopes
West Columbia, SC
Retirement Community Project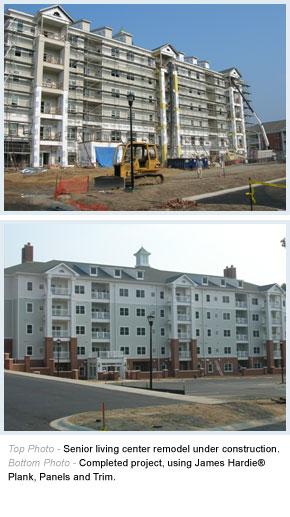 Still Hopes is an Episcopal retirement community in West Columbia, SC. This project was AAPCO's first for this General Contractor.
Hardie Installation
AAPCO provided labor and material for the James Hardie Plank, Panels and Trim on this project. Our work represented the bulk of the body on this large apartment building.

This project was fulfilling for a number of reasons. It helped AAPCO Group establish a new relationship with one of South Carolina's preeminent General Contractor's. It also allowed us to assist in the development of a Christ-based, senior living center for the Episcopal Church.