AAPCO Group Partners with Cooperative Christian Ministries on Bethel House Project
AAPCO Group recently completed the relocation and renovation of Bethel House in Concord, NC. >> ...read more

AAPCO Group Sr. VP Appointed NAA Committee Liason for NSC
Skip Huddleston, AAPCO Group's Sr. VP of Sales & Marketing, was recently appointed the Membership Committee Liason for the National Apartment Association's (NAA) National Suppliers Council (NSC). >> ...read more
AAPCO Brings New Life to Kenilworth Commons
Commercial Services

Kenilworth Commons highlights Commercial Services at AAPCO Group.

Charlotte, NC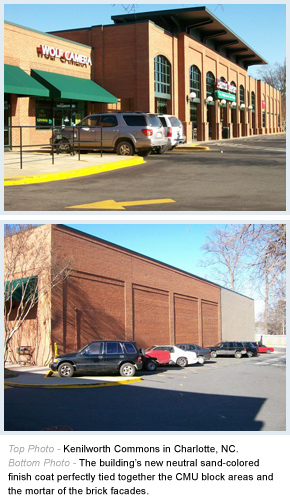 Kenilworth Commons, a retail center in Charlotte, North Carolina, was suffering from extensive paint peeling on the buildings' CMU block areas, located at the sides and rear of the buildings. The original reddish-colored paint was also severely faded, mildewed and chalky. To remedy the problem, AAPCO performed an exhaustive prep process in these areas that included pressure washing / bleach treating of the building and the scraping of all peeling areas of the CMU block walls.
After the scraping, the prep continued with our crews sealing all of the edges of the peeled areas with NP-1 caulk to assure a good seal and to prevent future peeling. Then, the areas were coated with a coating system that consisted of a full coat of masonary sealer at the CMU block and a full finish coat to all paintable surfaces.
The owners also followed AAPCO's recommendation for changing the block's finish coat color from the previous red to a more neutral sand color, which tied in perfectly with the mortar at the brick facades. In addition to a more aesthetically-pleasing appearance, the new color isn't prone to fading, thus adding additional years to the life of the coating system.