AAPCO Group Partners with Cooperative Christian Ministries on Bethel House Project
AAPCO Group recently completed the relocation and renovation of Bethel House in Concord, NC. >> ...read more

AAPCO Group Sr. VP Appointed NAA Committee Liason for NSC
Skip Huddleston, AAPCO Group's Sr. VP of Sales & Marketing, was recently appointed the Membership Committee Liason for the National Apartment Association's (NAA) National Suppliers Council (NSC). >> ...read more
AAPCO Rebuilds Steel / Concrete Stairways at Lakeside
Steel Reconstruction

Lakeside Apartments highlights Steel Reconstruction services at AAPCO Group.

Port Orange, Florida
209 units; 13 buildings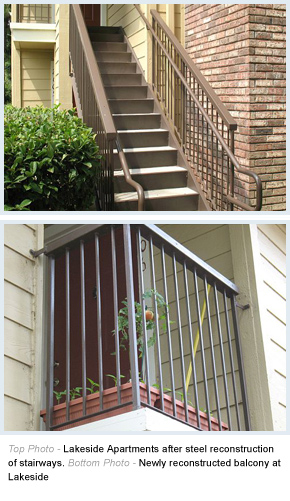 The stairways at Lakeside in Port Orange, Florida needed an extreme makeover. AAPCO did a complete re-build with new steel and concrete. But that was just one component of the project. AAPCO also performed extensive waterproofing services.
For the Lakeside Apartments in Port Orange, the owner wanted to enhance the exterior by rebuilding the steel and concrete stairways throughout the property. This reconstruction also involved the reconstruction of the balcony entryways for the second floor apartments that extended from each stairway.
The waterproofing for Lakeside began with the removal of the bottom section of siding and was completed with the installation of the three-step Sonoguard system with non-skid aggregate.
The steel reconstruction of the stairways and waterproofing of the property awarded the property a much cleaner look and eliminated the client's water intrusion issues.