AAPCO Group Partners with Cooperative Christian Ministries on Bethel House Project
AAPCO Group recently completed the relocation and renovation of Bethel House in Concord, NC. >> ...read more

AAPCO Group Sr. VP Appointed NAA Committee Liason for NSC
Skip Huddleston, AAPCO Group's Sr. VP of Sales & Marketing, was recently appointed the Membership Committee Liason for the National Apartment Association's (NAA) National Suppliers Council (NSC). >> ...read more
Linkhorn Bay Gets Facelift
Linkhorn Bay
Virginia Beach, Virginia
864 Units; 81 Buildings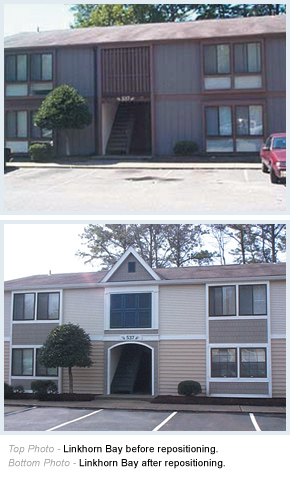 When the Linkhorn Bay owner wanted to position the property as a long-term hold option, they looked to AAPCO's expertise to renovate the exterior of the property in order to effect an enhanced and less dated curb appeal. The property was very simple in exterior design with T1-11 siding and wood balcony rails.
The renovations started with a re-design of the breezeway entrances. This included addition of a gable on the roof above the breezeway entrances, as well as installation of shutter and window elements and pilasters at the breezeway openings.
Another design change was the elimination of a non-functional window panel below the sliding windows of the units. These openings were framed and closed. This required sheetrock installation and finish work at the unit interiors.
Additional renovations also included:
New premium vinyl siding and soffit were installed on all buildings.
Vinyl shakes were incorporated at the breezeway openings as well as new window details.
All trim elements not receiving vinyl siding were wrapped in vinyl clad aluminum.
New seamless gutters and aluminum downspouts were installed throughout the property.
New PVC railings and post wraps at all balconies were also installed.
All previously painted surfaces not covered with vinyl or aluminum were painted.
Existing leasing office was demolished and a new 2000 s.f. leasing facility was constructed in its place.
New decorative aluminum perimeter fencing was installed.
As a result of the improvements, the property realized a significant improvement in traffic flow and occupancy. This coupled with the fact that the asset is positioned for greatly reduced capital expenditures in the future made this an extremely successful project for the owner.