AAPCO Group Partners with Cooperative Christian Ministries on Bethel House Project
AAPCO Group recently completed the relocation and renovation of Bethel House in Concord, NC. >> ...read more

AAPCO Group Sr. VP Appointed NAA Committee Liason for NSC
Skip Huddleston, AAPCO Group's Sr. VP of Sales & Marketing, was recently appointed the Membership Committee Liason for the National Apartment Association's (NAA) National Suppliers Council (NSC). >> ...read more
Multiple Services Combine for Dramatic New Look
Highlands of Marin
San Rafael, CA
220 Units; 22 buildings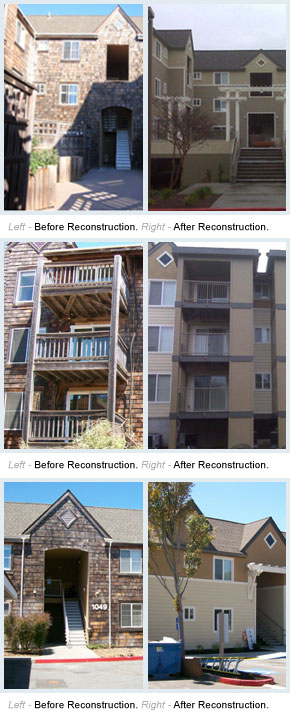 Highlands of Marin shows AAPCO at its typical best. The before and after photos of this repositioning/reconstruction project really tell the story. AAPCO's contributions were as follows:
Framing
Part of the major renovations included framing and reconstruction of the balcony stacks throughout this property. This included the addition of lockable storage rooms at all balconies and the addition of roofs at the top floor balconies. Numerous design modifications were required during this phase to accommodate fire suppression systems and a variety of other mechanical systems.
Siding Installation
AAPCO installed house wrap and Hardie® material (Plank, Panel & Trim) on the majority of the bodies of all buildings. This included flashing of all through wall penetrations. We also replaced numerous rotten framing members and sheathing during this phase.
Decking
Trex style decking was installed at all balconies upon completion of the framing and siding phases.
Exterior Painting
The property also received a full exterior paint system. This included painting of all siding, stucco, trim, doors, rails, etc.
Misc. Carpentry
In addition to the above mentioned carpentry, AAPCO replaced numerous entry doors and gable vents on this project.
When compared to the original look, the end result was dramatic. The visual appearance provided by AAPCO's work essentially provided the client with a new property. These photos show AAPCO's reconstruction / repositioning services at their usual best.