AAPCO Group Partners with Cooperative Christian Ministries on Bethel House Project
AAPCO Group recently completed the relocation and renovation of Bethel House in Concord, NC. >> ...read more

AAPCO Group Sr. VP Appointed NAA Committee Liason for NSC
Skip Huddleston, AAPCO Group's Sr. VP of Sales & Marketing, was recently appointed the Membership Committee Liason for the National Apartment Association's (NAA) National Suppliers Council (NSC). >> ...read more
AAPCO Reconstruction Improves Great Oaks Drive-by Appeal
Great Oaks
Ellicott City, Maryland
300 units; 9 buildings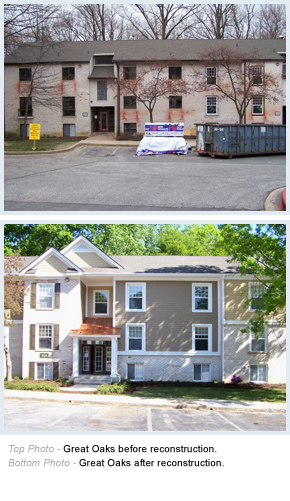 Great Oaks in Ellicott City, Maryland knew they were getting new, gabled entryways with columns throughout their property in its reconstruction project. But the columns that could be seen from the road also made a huge difference.
Major Rehab / Repositioning
These new columns were installed at select entries, and these entries also received new, decorative replacement entry doors and a standing-seam metal roof detail that greatly enhanced the look of the buildings. Additional components of the project included new gutters, new shutters, 75% deck replacement, concrete replacement, and amenity upgrades at the pool house.
Exterior Painting
The property also received a full paint job.
Siding Installation
In addition to entryways with columns, AAPCO installed house wrap and Hardie® siding on select areas of the body of the buildings, with some of the Hardie® being installed over brick.
Replacement Windows / Doors
Part of the major renovations included new windows and new patio and decorative entry doors. And prior to installing the new windows, AAPCO enlarged the brick window openings.
Roofing Replacement
Greatly adding to the property value was the roofing replacement performed at Great Oaks. And as mentioned above the entry covers received a standing-seam metal roof detail as part of the major repositioning.
Railing Systems
Another element of the repositioning included the installation of new PVC rails.
When compared to the original look, the end result was dramatic. The visual appearance provided by AAPCO's work essentially provided the client with a new property. These photos show AAPCO's reconstruction / repositioning services at their usual best.