AAPCO Group Partners with Cooperative Christian Ministries on Bethel House Project
AAPCO Group recently completed the relocation and renovation of Bethel House in Concord, NC. >> ...read more

AAPCO Group Sr. VP Appointed NAA Committee Liason for NSC
Skip Huddleston, AAPCO Group's Sr. VP of Sales & Marketing, was recently appointed the Membership Committee Liason for the National Apartment Association's (NAA) National Suppliers Council (NSC). >> ...read more
AAPCO Replaces Steeplechase Apartments' Windows with New Energy-Efficient Windows
Steeplechase Apartments
Williamsburg, Virginia
230 units; 13 buildings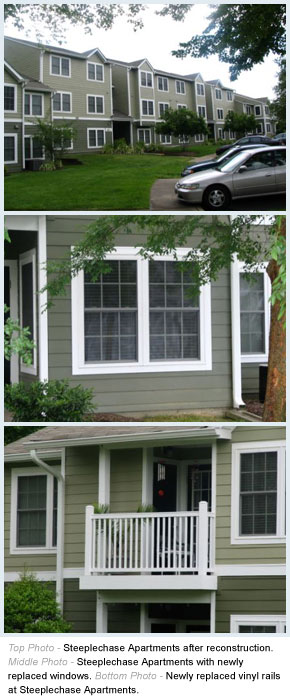 Steeplechase Apartments in Williamsburg, Virginia found AAPCO's service to be so reliable, a window replacement project turned into much more. Not only did AAPCO replace the windows and doors at Steeplechase Apartments, they were also contracted to perform additional exterior enhancements.
Major Rehab / Repositioning
The scope of work for this repositioning project included window / door replacement, exterior painting, siding installation, new PVC rails, constructed new dumpster enclosures, performed a full interior renovation of the clubhouse, and enclosed some existing carports to allow for additional, rentable storage space.
Exterior Painting
Another AAPCO service that greatly added to the major repositioning was the exterior painting; Steeplechase Apartments received a full repaint.
Replacement Windows / Doors
This project included replacing all existing aluminum single-hung windows with vinyl double-hung windows. AAPCO also replaced all existing wood French patio doors with new steel French doors. All entry and storage doors were replaced as well.
Siding Installation
In addition to the windows and doors, AAPCO executed a full tear-off and re-skin with Hardie® siding and house wrap that included re-flashing of all openings and penetrations.
Railing Systems
This major repositioning project also included the installation of new PVC rails.