AAPCO Group Partners with Cooperative Christian Ministries on Bethel House Project
AAPCO Group recently completed the relocation and renovation of Bethel House in Concord, NC. >> ...read more

AAPCO Group Sr. VP Appointed NAA Committee Liason for NSC
Skip Huddleston, AAPCO Group's Sr. VP of Sales & Marketing, was recently appointed the Membership Committee Liason for the National Apartment Association's (NAA) National Suppliers Council (NSC). >> ...read more
AAPCO Interior Renovations Help Summerhouse Convert Apartments to Condos
Interior Renovations

Summerhouse HHI highlights Interior Renovation services at AAPCO Group.

Hilton Head, South Carolina
194 units; 10 buildings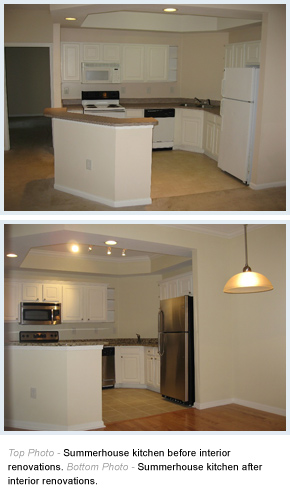 When Summerhouse HHI in Hilton Head, South Carolina needed a quality contractor to convert apartments to condominiums, AAPCO's interior renovation services came through in a big way.
The scope of work for the interiors included replacement of electrical & plumbing fixtures, new carpet and ceramic tile installation, crown molding installation, select countertops, appliance upgrades, new blinds and door hardware packages and full interior repainting. These same services were performed at the clubhouse interior. AAPCO also added granite countertops, custom wallpapered select areas and rewired the interior and outside of the clubhouse for installation of flat screen TVs.
In addition to the interiors, AAPCO also performed exterior work that consisted of a full repaint that included concrete staining of all breezeways and patios, re-siding of chimneys with installation of new custom-made chimney caps and patching, seal-coating, and re-striping of all asphalt parking areas.