AAPCO Group Partners with Cooperative Christian Ministries on Bethel House Project
AAPCO Group recently completed the relocation and renovation of Bethel House in Concord, NC. >> ...read more

AAPCO Group Sr. VP Appointed NAA Committee Liason for NSC
Skip Huddleston, AAPCO Group's Sr. VP of Sales & Marketing, was recently appointed the Membership Committee Liason for the National Apartment Association's (NAA) National Suppliers Council (NSC). >> ...read more
Condos Get Dramatic Accents
Tranquil Court
Charlotte, North Carolina
Condominium Project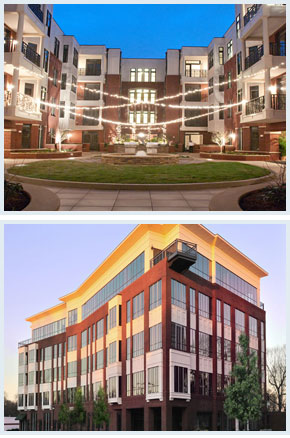 Tranquil Court is a cutting-edge condo project in the heart of the historic, Myers Park area of Charlotte. The developer is a long-term client who has used AAPCO on numerous residential developments in and around Charlotte.
Hardie Installation
AAPCO provided labor and material for all of the non-brick, fiber-cement details on this midrise project. The specifications called for Hardie's pre-finished Color Plus Technology on these components. There was a combination of Hardie Plank, Panels and Trim in these areas. All Color Plus components on this project carry a 15 year manufacturer's paint warranty.
Column Installation
AAPCO also provided and installed all of the columns at the balcony and entry areas of the property.
As the photos show, AAPCO's contribution to the project resulted in a dramatic final product. The appearance is timeless and the use of James Hardie's Color Plus Technology assures that the asset will keep that look for years to come.