AAPCO Group Partners with Cooperative Christian Ministries on Bethel House Project
AAPCO Group recently completed the relocation and renovation of Bethel House in Concord, NC. >> ...read more

AAPCO Group Sr. VP Appointed NAA Committee Liason for NSC
Skip Huddleston, AAPCO Group's Sr. VP of Sales & Marketing, was recently appointed the Membership Committee Liason for the National Apartment Association's (NAA) National Suppliers Council (NSC). >> ...read more
AAPCO Gives Colonial Village at Trussville's Pool a Hot New Grill Area
Amenity Upgrades

Colonial Village at Trussville highlights Amenity Upgrade services at AAPCO Group.

Birmingham, Alabama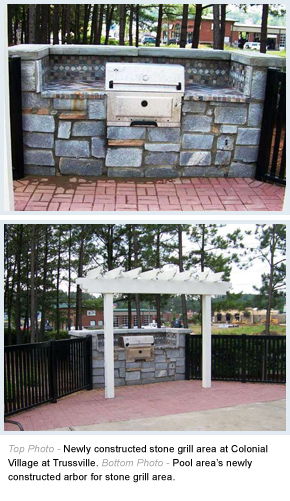 When Colonial Village at Trussville near Birmingham, Alabama wanted to upgrade their pool area, AAPCO constructed a stone grill area that was beyond what the owners expected.
As part of AAPCO's commitment to excellence, they are constantly thinking about ways to expand the owner's bottom line. By considering ways to improve the occupant's experience, the owner realizes both increased occupancy and higher occupant retention. With the occupants at Colonial Village at Trussville in mind, the amenity upgrades were designed to enhance the entertaining possibilities near the pool area.
For the pool area upgrade, AAPCO constructed an entertaining area complete with a stainless steel grill and stone enclosure. AAPCO also installed new pavers, constructed a new arbor, and improved the pool lighting and fencing. The end result enhanced the pool area of the property and provided a fun area for occupants to gather and socialize.