AAPCO Group Partners with Cooperative Christian Ministries on Bethel House Project
AAPCO Group recently completed the relocation and renovation of Bethel House in Concord, NC. >> ...read more

AAPCO Group Sr. VP Appointed NAA Committee Liason for NSC
Skip Huddleston, AAPCO Group's Sr. VP of Sales & Marketing, was recently appointed the Membership Committee Liason for the National Apartment Association's (NAA) National Suppliers Council (NSC). >> ...read more
Wellington Place Receives Complete Revamp
Wellington Place
Manassas, Virginia
372 Units; 35 Buildings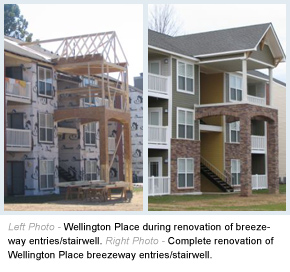 With bold plans to change their property's curb appeal in hand, the owners of Wellington Place in Manassas, Virginia sought out the expertise of AAPCO Group to fulfill their revamping vision.
Major Rehab / Repositioning
The main causes for the dated appearance were the exterior aesthetics. In order to remedy this, AAPCO performed a number of building profile modifications. To start, the breezeway entries/stairwells were significantly reconstructed with an "exposed beam" design that was replicated throughout the property. The exterior reconstruction to the breezeway entries/stairwells included brick removal, major reframing, and Hardie® installation. The stone veneer installation also enhanced the exterior.
Enhancements to the plain side entries also contributed to the complete revamp. These side entries received completely new entry covers that consisted of a shed roof design. Further renovations to the side entries included the installation of new concrete sidewalks and attractive standing-seam metal roofing. The concrete sidewalks and standing-seam metal roofing extended to other areas of the property as well.
In addition to the above services, AAPCO also installed new gutters with downspouts and splash blocks. And the hardware for the entry doors was fully replaced.
Exterior Painting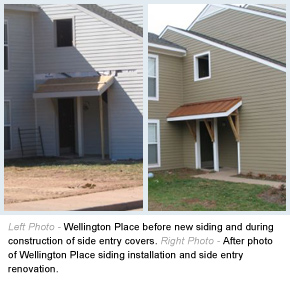 A full exterior paint job was performed after the storage room door replacement.
Replacement Windows / Doors
For the window and door replacement, the outdated patio doors were replaced with PVC replacement doors with a decorative 9-light design, and the windows were replaced with a design that matched the replacement doors.
Siding Installation
Originally sided in cedar, the property had vinyl siding installed over the original cedar ten years earlier and was severely outdated. The first step was tearing off the cedar and vinyl siding components, which was followed by the application of house wrap, complete re-flashing of penetrations and openings, and installation of Hardie® siding.
Railing Systems
And to top it all off, new PVC rails were installed throughout the property.
The final effect was dramatic, exceeding the client's original expectations. With the goal of enhanced curb appeal achieved, the owner experienced their desired effects of improved traffic and occupancy, not to mention the improved rent rates and overall property rating.