AAPCO Group Partners with Cooperative Christian Ministries on Bethel House Project
AAPCO Group recently completed the relocation and renovation of Bethel House in Concord, NC. >> ...read more

AAPCO Group Sr. VP Appointed NAA Committee Liason for NSC
Skip Huddleston, AAPCO Group's Sr. VP of Sales & Marketing, was recently appointed the Membership Committee Liason for the National Apartment Association's (NAA) National Suppliers Council (NSC). >> ...read more
Recent 5th Annual AAPCO Group Associate/Vendor
Appreciation Picnic a huge success!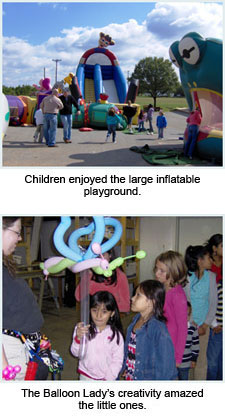 The AAPCO Group held its 5th Annual Associate/Vendor Appreciation picnic at its headquarters in Concord, NC on Saturday, October 18th.
Our associates, vendors and their families helped to make this year's gathering a huge success with over 200 people attending, by far our largest turnout ever.
There was a large inflatable playground and a balloon lady for the little ones, and a pick-up football game broke out among the older children.
After a lunch of BBQ, ribs, chicken, burgers and dogs, AAPCO Group President Stan Dobner passed out awards to our subcontractor associates. These awards were in recognition of years served with AAPCO and included nice plaques and cash bonuses. A number of our subs were recognized for 10 years of service and one was recognized for over 12 years of service to AAPCO. We also held a raffle and distributed numerous prizes such as power tools, painting equipment and other items our associates can use in their day to day business.
After the awards presentation and raffle, AAPCO Group Founder & CEO Chip Dobner shared a well-received message of hope and faith with the attendees.
This event was another way for AAPCO to fulfill its mission of having a positive influence in the lives of the people and companies who have helped fuel our firm's success. We are grateful for the opportunity to do so and thankful to our clients who make this event and our other methods of outreach possible.