AAPCO Group Partners with Cooperative Christian Ministries on Bethel House Project
AAPCO Group recently completed the relocation and renovation of Bethel House in Concord, NC. >> ...read more

AAPCO Group Sr. VP Appointed NAA Committee Liason for NSC
Skip Huddleston, AAPCO Group's Sr. VP of Sales & Marketing, was recently appointed the Membership Committee Liason for the National Apartment Association's (NAA) National Suppliers Council (NSC). >> ...read more
20 Years and Counting!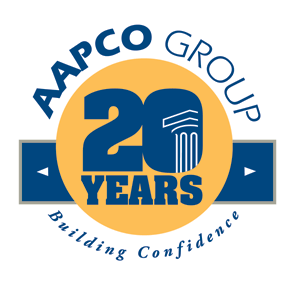 After 20 years of serving the multi-family industry, the AAPCO Group family is thankful to our clients for our past success and looking forward to continuing this success in the future.
We started as a small, new construction paint company in the late 80's called AAPCO Painting. As we moved into the 90's our name changed to AAPCO Southeast, a regional company performing painting and renovations for the multi-family industry.
Since the year 2000 we have continued to enlarge our vision, expanding our service to the apartment industry by performing major reconstruction / repositioning projects throughout the U.S. as the AAPCO Group.
We are committed to the development of long-term, mutually beneficial relationships with our clients. As a Contracting Partner we strive to play a major role in our clients' success by providing outstanding service and a superior finished product.
As with any 20 year old business, AAPCO has experienced the down cycles within our industry. We have learned to survive, and flourish, during these challenging times while still staying consistent to our clients, associates and suppliers. We have also learned that our success and longevity would be impossible without properly serving these parties and helping them to succeed as well.
20 years is a long time. Much has happened during the life of our company. We must thank God for His past blessing and we look to the future in great anticipation for what He has planned for AAPCO. Without His blessing and favor we would have closed our doors many years ago. We give Him full credit!
The AAPCO Group is not a perfect company. We are a group of imperfect people striving very hard to be a successful Contracting Partner in the multi-family renovation industry. We will continue to learn and grow, with the belief that the best is yet to come!
Thanks again to all of you who have played a role in our success. We look to the future with great anticipation as our company and relationships continue to grow.